NON-STICK HFFR BEDDING COMPOUNDS
THE PROBLEM OF STICKING TO XLPE INSULATION IN HFFR CABLES ELIMINATES WITH HDOPLAST NEW NON-STICK HFFR BEDDING COMPOUNDS
HDOPLAST HNS series non-stick bedding compounds are low smoke and non-corrosive flame retardant zero halogen bedding compounds. Thanks to its unique and patented formulation it provides no adhesion to polyolefin insulation as well polyolefin sheathing during extrusion of thin and thick wall section cables without TALC POWDER. It is suggested to use in tandem and co-ex extrusion processes not suitable for two-pass extrusion.
For easy stripping of insulation and jacketing layers, HNS series compounds provide a cleaner, cost saving, production efficiency, environmentally conscious, operator-friendly and safer alternative to conventional powdered coatings like talcum powder, mica, zinc stearat, special coatings, tapes …etc. for wire&cable manufacturers.
Choose HDOPLAST HNS series non-stick bedding compounds anti-stick technology and enjoy the improved performance and appearance of your wires and cables.
This material is suitable for application in any of the following cable configurations. In a cable structure consist of these materials, HDOPLAST HNS series non-stick bedding compounds do not adhere to insulation nor sheathing material without the use of talc powder. This bedding compound generally are used in the production of NHXMH, NHMH, N2XH type cables.
Insulation Material
XLPE
X-HFFR
E
PP
EPR
Silikon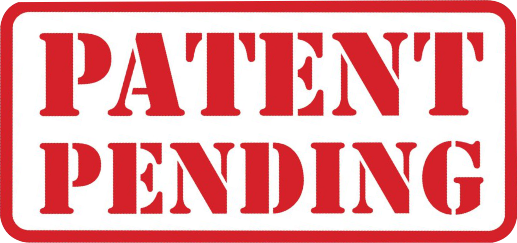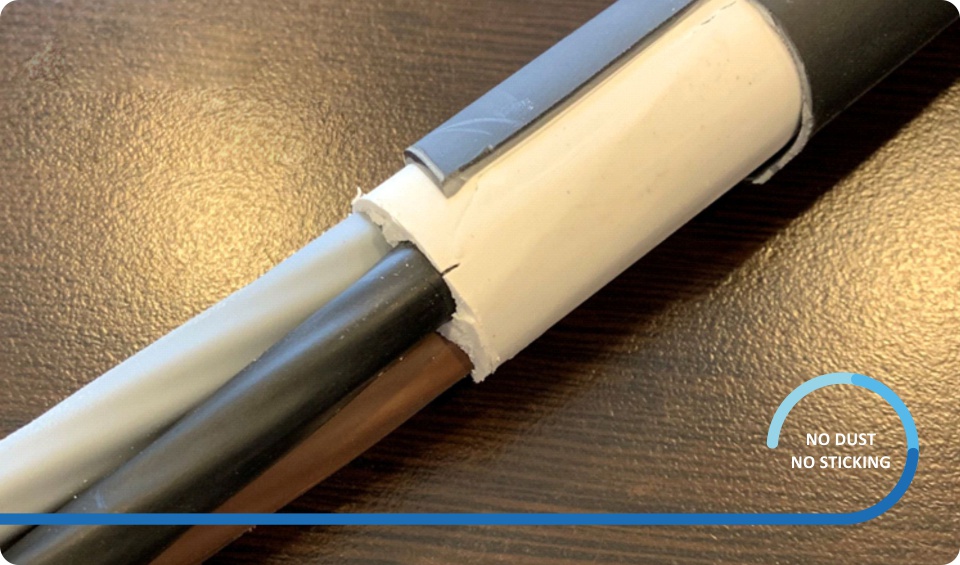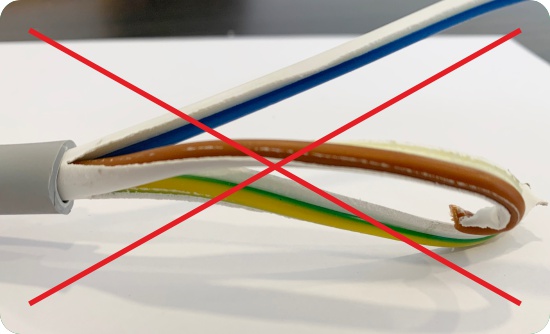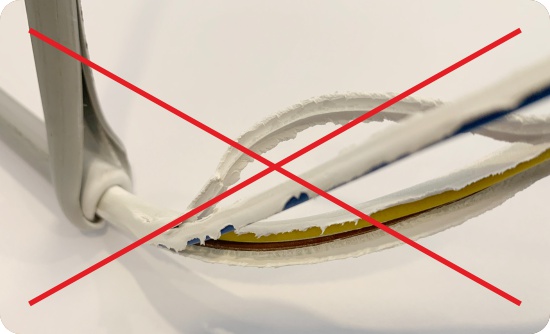 WHY REPLACE YOUR EXISTING SOLUTIONS WITH HNS NON-STICK BEDDING COMPOUNDS?
Provide absolute non-adhesion to insulation and sheathing thanks to its unique and patented technology
Excellent strippable properties
No powders like talc, mica or metallic stearats
No tapes
No dust
No additional investment,
No interference with electromagnetic properties
Increase line speeds up to %100
No process temperature limitation up to 190°C
Easy processing
Strong flame retardancy up to 72% LOI especially for higher class CPR regulations
COST
It is an extremely feasible product for Wire & Cable manufacturers because it increases production efficiency by eliminating talc, mica, stearat powders, and tapes and provides to increase line speeds with reasonable prices.
Due to the adhesion problem is completely eliminated, the end-user complaints for this will also cease.
While undoubtedly inexpensive, powdered anti-stick coatings will inevitably lead to increased cost associated with housekeeping, machinery maintenance, and time wasted cleaning up after migrating powders. HDOPLAST HNS series non-stick bedding compounds for extruded wire and cable will minimize operating costs as well as lead to better part appearance and a safer working environment for your employees.
EXTRUSION EFFICIENCY
Although there are many sophisticated extruders and cable production lines in many cable manufacturers, the speed of cable production is as fast as the slowest part in this process. Often the most compelling part of HFFR cable production is sticking bedding compound to the XLPE insulation layer. At this point, HDOPLAST HNS series non-stick bedding compounds provide that line speeds increase up to 100% by guaranteeing no adherence to XLPE.
CLEANLINESS AND MACHINERY
Many wire and cable manufacturer apply powdered anti-tack coatings like mica, talc, and zinc stearate to XLPE insulation to facilitate stripping by the end user. While inexpensive, powders can cause endless housekeeping problems that can be eliminated with the use of HDOPLAST HNS series non-stick bedding compounds solutions. Migrating powders are also associated with marked increases in machinery fouling and maintenance costs.
HEALTY AND SAFETY
Switching to a HDOPLAST HNS series non-stick bedding compounds will eliminate the health risks to operators associated with inhalation of powdered coatings like mica and talc. Talc contains toxins and irritants which contaminate sensitive environments and can be difficult to work with during the cable extrusion processing.
APPEARANCE AND PERFORMANCE
Powdered anti-tack coatings lead to poorer wire and cable appearance. Powders ultimately clump up on wires and cables and diminish the color quality of your products HDOPLAST HNS series non-stick bedding compounds ensure anti-stick properties on cables that promote easy, uniform stripping for the end user. Choose HDOPLAST HNS series bedding compounds anti-stick technology and enjoy the improved appearance and performance of your wires and cables.
RECOMMENDED PROCESSING CONDITIONS
The processing conditions can be different according to extruder type, L/D ratio and other parameters. The suggested extrusion's temperatures given below, which is however indicative, as it may depend on the customers facility.
Extruder Type : Conventional low compression ration HFFR screws with 12 to 25 L/D
Tooling : Compression or semi-compression
processing temperature

Maximum molten compound temperature : 190°C
Drying : Pre-drying HDOPLAST HNS series non-stick bedding compounds are normally not necessary provided that the compound has been stored in the original sealed bags under cool (max. 30°C) and dry conditions.
Extrudable Compound For Aluminum Composite Panel At A2 Class Fire Resistivity And Method Of Making Aluminum Composite Panel With Thereof
In recent years, several major fires occurred in high-rise buildings involving rapid fire spread and smoke and toxicity upon the exterior walls and facades, and caused severe damage and loss. The extensive use of combustible insulation materials without proper fire protections and barriers were believed to contribute to the uncontrollable fire spread in the high-rise buildings.
If a fire is able to find sufficient flammable materials it will quickly spread through an area. It is therefore crucial to use materials of limited combustibility on key surfaces within a room, such as ceilings and walls. The use of such materials can dramatically reduce the speed flames spread through an area as well as minimize their contribution to the fire.
According to EN 13501-1, total heat release rate of A2 class fire resistive aluminium composite panel (ACP) material should be equal or less than 3 MJ/kg.
With this point of view, it is obvious that manufacturing facilities of composite panels having fire resistivity at A2 class or better will become more important. Regarding with manufacturing of A2 class composite panels, the authors of patent CN201399940 clearly expressed that core material of A2 class composite panels contains inorganic materials in large number and high percentage, resulting in the situation that core materials of A2 class ACP may not be processed with a common manufacturing equipment such as banbury, single screw, co-rotating or counter rotating twin screw extrusion line. Main reason behind the unprocessability of A2 class ACP core material is high filling ratio of polymeric materials given rise to deterioration of structure integrity of the compounds. .
The present patented compound is extrudable thermoplastic resin compound for a building panel at A2 class fire resistivity. The building panel such as a flooring panel or wall panel and the use thereof to form floors, walls, cladding, etc., by assembling a plurality of the panels and thermoplastic core materials produced by the extrudable thermoplastic resin compound at A2 class fire resistivity according to EN 13501-1 .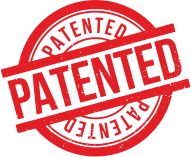 EXTREMLY HIGH FLAME RETARDANT COMPOUNDS ENFORCING BOUNDARIES OF COMPOUNDING
%50 LOI HM2/HM4 HFFR SHEATHING COMPOUND
It is a thermoplastic HFFR external sheath product developed for applications requiring high combustion resistance and CPR certification. It is a specially developed performance product for cable manufacturers with its low smoke density and halogen-free structure. Excellent combination of high combustion resistance with easy processability, Compliance with many national and international standards,
%86 LOI HFFR BEDDING COMPOUND
Thanks to its special formula, performance filler is the product that enforcing the boundaries in terms of burning resistance. With its low smoke density and halogen-free structure, it helps to keep the manufacturer in a safe zone, even in the most difficult cable sections. Although there is a very high combustion resistance performance, such as 86% LOI, the ability to process at high speeds in conventional cable extruders ensures that the product is positioned in a separate place against its competitors.